Hi Everyone,
I've got some good news, Watercolor has come back into my life! I'm taking Watercolor 2 this semester, which some of you know I haven't seriously picked up for almost a year! It's been taking me a little bit to get into it again, as it's extremely different from Oils, but I think I'm beginning to remember how to do it. The first assignment was to free draw a still-life, and then paint it. I focused on some little dolls and used it as my initiation back into watercolor world…don't think I did very well, but hey, this one's just an exercise: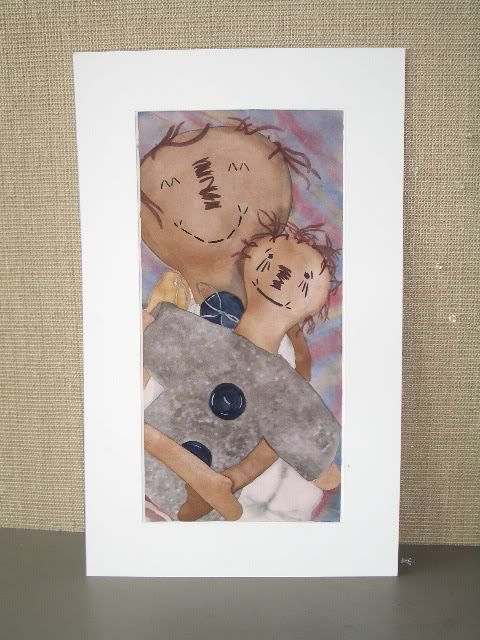 The second assignment was to paint anything we want in two colors. Well, I had stashed a picture of a flower girl I cut out of a bridal magazine that I had been itching to do in watercolor for almost 8 months! I figured now would be a good time to pick it up and do it. The only problem was there were such beautiful flowers in the picture, how could I possibly do them all in just two colors? Well…I goofed, and I didn't. I used my whole palette instead. 😛 I thought it was so cute by the end, I went out and bought a $20 frame for it (which is so not good because James and I are poor to the extreme, but I couldn't help myself!) I spent all weekend on it, watching three DVD's with my fold up table in the living room…well, the picture's slightly fuzzy, but this is the result:
Isn't it adorable? It reminds me a lot of my niece, Laura…the blonde hair would be on James's side…Who knows what our kids are going to look like. Even though I goofed on the assignment, Sister Ellis gave me a lovely A, and asked me to do another painting with the two colors. The picture is now hanging up in our guest bedroom :). I think the point of the 2 color assignment is that you can create tons of different colors with just two, so imagine how many you can make with a whole palette? I would also like to note that the "black tuxedo" in the background is not black. It's a blend of Payne's grey and Indigo together, making a really dark blue! I've been trying to steer away from black, but rather make dark blues and purples, because dark colors in nature are, in fact, cool colors. Sister Barker, the teacher that I took for watercolor last year, is actually in my class as a student this year and suggested to me that I try the Payne's grey and Indigo together. Well it worked! She's so talented, I guess you can never learn enough from one person.
Well I'm excited for this semester, are you? Hopefully I can make watercolor 2 look like a piece of cake, even though it is the hardest medium. one of my most beloved sisters in law is getting married in July, and for her wedding gift I'll be doing a painting of her choice of her wedding. This makes me so happy, because I feel like I'm sharing my talents to others, and not to mention I LOVE weddings! They're all so happy, and I'm so glad I get to feel that happiness and capture it in her future painting. That's her gift to me. Hope all is well with all of you.
Sincerely,
Laura
PS- On a side note, I have become infatuated with a song on my ipod, and I highly suggest you all listen to it. It's called "Eternal" by William Joseph. Incredible piece, he does his own music, and he has his first CD out now. I think that song gives me a lot of inspiration for what I do. I play it over and over!
>