I now have a new site on cafepress.com, where you can buy my art as a print. You can have a car on T-shirts, mugs, baby clothes, etc. it's also a heck of a lot cheaper then buying the original painting. Check it out:
http://www.cafepress.com/dadsoldvehicle
The art and music festival in September went alright. Unfortunately the festival wasn't advertised well enough, and on top of that it rained and snowed the day of the festival, so we were stuck inside. I suppose a lot of people thought the festival wasn't going on because of the weather, so we didn't have many people come. The only people who did come were college students to listen to the bands play. They weren't at all interested in my work. It's alright though, it was nice to meet new people.
Well, some of you may know it's James's and my last semester here at BYU-Idaho. Just two weeks to go! The Spori gallery was holding a student art show, and had asked for submissions. I had entered my cold rusty cars, and the funny thing was my Old Plymouth got into the show. I came by in the middle of the opening night to say hello to some of my friends who were in the BFA show, and I was surprised to find out that they had distributed awards, and I received honorable mention in watercolor for my old Plymouth! I suppose this is something significant to put on my resume. Here's a picture: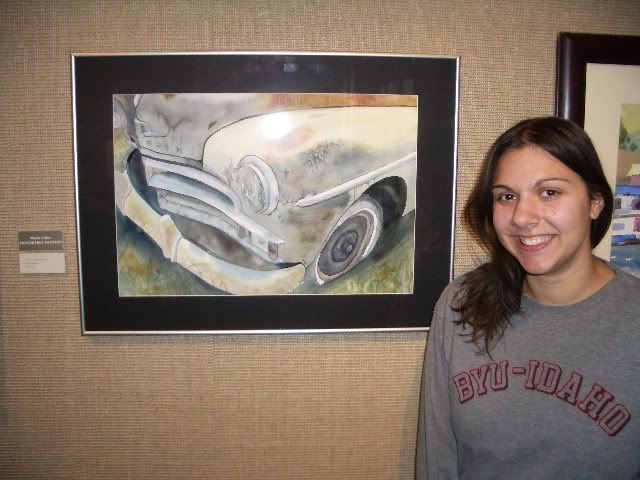 I had also entered an art talent award held by the art department and was surprised received $200! Looks like I'm not such a bad painter after all! (haha). My university has done so much for me, it is going to be very difficult when it comes time to say goodbye. We will be moving to Connecticut and staying with James's parents, and they are designating a spot for me in their downstairs for an art studio! MY VERY OWN STUDIO! I have such big plans for it, when everything is cleared out and I'm set up, I plan to paint my little heart out, like it was a highly demanding job or something. I will call it….Laura's inspiration point!
In my business professional arts class we had to write down the addresses of 100 galleries for our own future reference. I exhausted all of the galleries of Connecticut, and as I was entering New York galleries I think I was going cross eyed until I collapsed at 100. When I get back to Connecticut, I plan on contacting those galleries, visiting with them and showing them my work. Hopefully one will think I have some potential and sell my art! And concerning the production of work: I hope the more paintings I produce the better I will get at it. I know I have so much to improve on as an artist, and I want to find my own style, but I just am bursting at the seams to begin that voyage.
Finally, this will be the last I will be writing to you from this email. The end of the semester is coming, and so is the end of my BYU-Idaho account. Please update your address books to my new email address, where I will be sending you more updates:
juneflower7@gmail.com
Thanks so much for believing in me, everybody. I hope to wow you with future works from my easel as I finally begin my full time career in fine art.
Sincerely,
Laura D'Onofrio